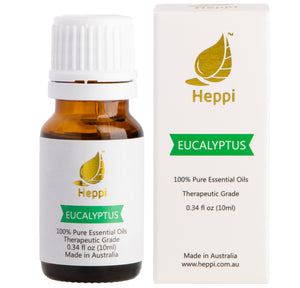 Heppi
Eucalyptus Essential Oils 10 ml - Heppi
Tax included.
100 % Pure Essential Oils
Amber Glass Bottles, supporting purity and prolonged oil life
Made in Australia
Free, Fast, Trackable Delivery Australia Wide
International Delivery Available
Eucalyptus oil is made from leaves of selected eucalyptus tree species. The trees belong to the plant family Myrtaceae, which is native to Australia, Tasmania and nearby islands. There are more than 500 eucalypti species, but essential oils of Eucalyptus salicifolia and Eucalyptus globulus (which is also called fever tree or gum tree) are retrieved for their medicinal properties.
Aside from extracting their essential oils, the bark of the eucalyptus tree is used for papermaking and the wood is used in Australia as fuel and timber. 
Traditionally, eucalyptus oil was used as an analgesic agent that helped to relieve pain, and it was valued for its ability to reduce inflammation and improve respiratory conditions. And today, eucalyptus oil benefits and uses are extensive, and the oil is commonly used in healing ointments, perfumes, vapor rubs and cleaning products. (Dr Axe)
Eucalyptus Essential Oils 10 ml - Heppi
has a rating of
5.0
stars based on
1
reviews.
---